Print
Organizing partners
Bordeaux Wine Awards' organizers


La Chambre d'Agriculture de la Gironde
www.gironde.chambagri.fr
The Gironde Chamber of Agriculture ensures the technical organization as well as the promotion of the Concours. One of the many actions towards wine producers of the region.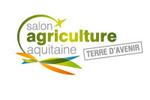 Le Salon de l'Agriculture Aquitaine
www.salon-agriculture.fr
2nd Agriculture Fair in France by its importance. During 10 days long, a unique show for the Aquitaine region and its agriculture. Friendly atmosphere, farm animals, terroir products ans rural activities are there !

La Foire Internationale de Bordeaux
www.bordeaux-expo.com/foire
Bordeaux International Fair : 10 days of animation, 250 000 m2 of show, 2 500 exhibitors.
Bordeaux Wine Awards' partners
Global Wine & Spirits
Salon de l'Agriculture Aquitaine
Chambre d'Agriculture de la Gironde
Chambre d'Agriculture de Dordogne
Chambre d'Agriculture des Landes
Chambre d'Agriculture du Lot-et-Garonne
Chambre d'Agriculture des Pyrénées-Atlantiques
Chambre Régionale d'Agriculture d'Aquitaine
Les vins français
MATEVI, la 1ère banque de données sur le matériel vitivinicole
Agence fleurie