Print
Download the medals to be printed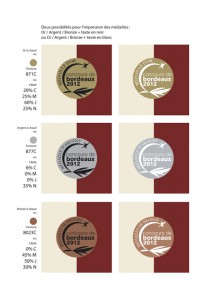 To put the medal on the label or back label, you can download it here. This service is also available to printers and graphic designers.
Legal constraints to be respected, if you put the badge on the label or back label, the following items must appear:
the logo,
the words "Gold Medal (silver or bronze) at the Concours de Bordeaux – Vins d'Aquitaine"
year in which the medal was won
The number assigned by the organization to each award-winning grower, in the days after the contest, on the certification of the coin. A copy must be provided to the printer. The numbers are composed as follows: year of the coin + 4 digit number (serial number) to the left of a bar; 1 to X digits to the right of that bar, which correspond to the number of badges awarded based on the volume of medals
Warning!
the use of both the medal and badge sticker on the same bottle is prohibited.
Only mentioning the coin on the labels of the bottles bottles, without representation, is not allowed.
Chromatic Recommendations
The medal on the label must be as close as possible to the medal sticker. We advise you to follow the chart below, with one possible variation: text may be in black or white. It is ecessary to ensure that the colors are not confusing.
2013
2012
2011
2010
2009
2008